Inspired by St. Michael the Archangel whose flaming sword protects us and guide us on what to blog
Washington Post (predicted Pope Francis win Nobel)
This coming Friday, the prestigious
Nobel Peace Prize will announce this year's awardee and we implore the Nobel Committee NOT to vote for Pope Francis because he is all empty talk and he has done nothing – personally -- for the good of children and mankind. Pope Francis is only a big-mouth who preaches and – plagiarises the hard works of others especially scientists of climate change who work their butts out in the field – and Pope Francis usurps the honor due to them. Last year, we praised the Nobel Committee for choosing a 17 year old girl Malala who is personally working out there in the field helping girls to have access and the right to education – at the risk of her personal life – and fighting threats against her personal life, against the Taliban and personal opponents. But Pope Francis suffer no such risks as Malala – and other more worthy awardees -- because he is surrounded by ceremonial Swiss Guard Army and he is living in the lap of luxury of the Vatican Billions and within the fortress and comfort of the Vatican Palace that surpass the palaces of monarchs in Europe and in the world. Wherever he goes such as in the USA, the cities he visits becomes a "police state" filled with security. Pope Francis is nothing but a vain narcissistic rock-star exploiting people and the poor to satiate the Vatican Mammon Evil Beast. Pope Francis "lies for a living" with all his props arranged and staged by his Opus Dei Beast PR Deceits Team. Read more in our articles,
"God weeps" but Pope Francis LAUGHS as buffoon-in-white of Vatican Circus of Deception. Pope Francis and Vatican "lie for a living" to cover-up JP2 Army
http://pope-francis-con-christ.blogspot.ca/2015/09/god-weeps-but-francis-keeps-laughing-as.html
No politician and plutocrat should win the Nobel Peace Prize
.
No Catholic priest should win it either – because the Vatican will exploit his award for its self-serving Vatican Mammon Evil Beast. Priests are pathological liars in their power in the sacraments of Confession and Eucharist. Read our related articles in Eucharist Mythology with images below and the
Sacrament of Confession protects criminals and persecutes their victims
http://popecrimes.blogspot.ca/2012/11/sacrament-of-confession-protects.html
Two-faced Pope Francis: Laughing THIEF & Grim LIAR
. Two completely different faces that reveal his inner soul. Strange Case of Dr Jekyll and Mr Hyde at the Vatican?
Papal BULLshits in Capitol Hill!
Pathological lies in Pope Francis address
in US Congress
Let's take a look at the papal BULL (shits) that Francis papal farted on those American senators and congressmen and women who are puppets of Wall Street and plutocrats and American global hegemony.
First watch this video and you'll understand why everything Pope Francis is doing in the USA is using God's Name in vain – because his ultimate end and goal is to satiate the Vatican Mammon Evil Beast – those Secret Vatican Swiss Banks managed-only by his Swiss Guard Army graduates. Pope Francis is the perfect conduit of American global hegemony and multi-national plutocrats.
Echoing Dr Chossudovsky's arguments, Malaysia's prominent political scientist, Islamic reformist and activist Dr Chandra Muzaffar said that the US has always manipulated religion to further its global hegemony on sovereign states.
The Vatican Swiss Banks hoards
the loots of despots and plutocrats that cause wars and force the refugee crisis.
Read our related articles on Pope Francis travels
P
ope Francis had to pick on a topic to keep his relevance in the world stage. With the Catholic exodus of hundreds of millions abandoning the Catholic church especially in Europe and now in North America, he had to latch on and piggy back ride on climate change and the issue on the environment to keep his voice relevant. The Vatican Titanic is sunken deep in the ocean of moral bankruptcy so he had to latch on other issues and by doing that he is STEALING the hard work of scientists and environmentalists. Everything Pope Francis do is theft, read more below.
Pope Francis has nothing in common with St. Francis who was not a priest. St. Francis wrote his famous canticle Brother Sun, Sister Moon, and he knew that God created these heavenly bodies and there was no way as a mortal frail man he could create God's flesh in the Eucharist.
St. Francis was thin – lived in a small cave – anyone who has visited Assisi could see his poverty. Versus the hypocrisy of Pope Francis in the wealthiest Vatican palace that rivals all monarchs in Europe.
Pope Francis hides and protects the wealth of Presidents,
despots, disctators, druglords,
American plutocrats, European imperialists
in Vatican Swiss Banks managed-only by his
UNITED STATES
PopeCrimes& Vatican Evils.
Paris Arrow
Pope Francis imitates Saint John Paul II the Great
Pope Francis is imitating – (not Jesus) – but his Holy Father of Lies John Paul II the Great – read our related article, Cold-blood-ed John Paul is no saint for children because he said nothing and did nothing to save and protect them for 27 years
http://popecrimes.blogspot.ca/2014/05/cold-blood-ed-pope-john-paul-ii-is-no.html
With pompous fanfare of empty words, words, words, the Opus Dei Beast PR Deceits Team arranged theatrics for John Paul II to ask forgiveness for many famous (e.g. Crusades, Galileo) Church crimes but not for his own singular crime and biggest sin which was his complicit hidden JP2 Army – John Paul II Pedophile Priests Army with his poster boy and evil Achilles Heel, Cardinal Bernard Law of Boston, read more here
http://jp2m.blogspot.ca/
UNITED STATES
PopeCrimes& Vatican Evils.
Paris Arrow
On June 23, 2014, Pope Francis met with Kenneth Copeland and 8 other US evangelicals at the Vatican. It was a perfect timing to coincide with the Copeland's annual convention in Forth Worth Texas from June 30 to July 5 where Kenneth spoke about the Pope during an entire session. which he never did in his entire 40 years ministry. Below is a compilation of disagreement and anger from his followers which is very enlightening. So is this why Pope Francis cancelled his daily mass for the summer and his weekly Wednesday Angelus because he wanted to use those time for meeting with other religions and other sects and evangelicals like Kenneth Copeland – instead of meeting his usual Francis-Maniacs Catholic zombie and stupid nuns in St. Peter's Square on Wednesday Angelus?
UNITED STATES
POPE FRANCIS the CON-Christ.
Paris Arrow
Jesus said, "but whoever causes one of these little ones who believe in me to sin, it would be better for him to have a great millstone fastened around his neck and to be drowned in the depth of the sea." (ESV Mathew 18:6) Read the John Paul II Millstone
http://jp2m.blogspot.ca/
Pope Francis's papal mass is the apex of the Eucharist Satanic Mass and it heals no one and it only fools everyone.
Pope Francis said in his homily at a papal mass with 6 abused victims that these "despicable actions" had been "camouflaged with a complicity that cannot be explained." How stupid can 1.2 billion Catholics get not to be able to see Pope Francis is papal farting Opus Dei Beast pathological lies again at them?
UNITED STATES
POPE FRANCIS the CON-Christ.
June 21, 2014
Paris Arrow
The New York Times should do more for the good of mankind - by using its media platform - to end the corruption of the global Vatican Evil Empire and track down Pope Francis' biggest heist in mankind's history, read about it in our article, Hidden Heist in the Holy See. The SECRET biggest heist in the history of mankind! Pope Francis is the Greatest THIEF on earth.
http://pope-francis-con-christ.blogspot.ca/2014/02/hidden-heist-in-holy-see-biggest-heist.html
The New York Times should assist Pope Francis to make this world a better place by helping him achieve the 6 suggestions for Pope Francis, the Pharaoh of the Vatican Pyramid with three equal sides: corrupt politicians, corrupt businessmen, corrupt clergy
http://popecrimes.blogspot.ca/2014/06/6-suggestions-for-pope-francis-as-he.html
UNITED STATES
POPE FRANCIS the CON-Christ.
June 21, 2014
Paris Arrow
With compilation of Tuam nuns news
Pope Francis has called-in sick for the summer and has cancelled even his well-oiled money machine Wednesday Angelus where he shows all his teeth nonstop to the screeching adulation of Francis-Maniacs who sound more like Catholic zombies in Brad Pitt's World War Z movie and are probably making him more sick and there's no antidote to it, read our article, Pope Francis is sick with lies, lies, lies & burdened yoke from Opus Dei Beast PR Deceits Team weighs heavy on Jesuit puppet pope. But aside from the sick (only one-year old) pope, Irish priests these days too are depressed and not smiling because of three women specifically who are giving them – and to Pope Francis – messages unparalleled to Martin Luther's Ninety-Five Theses in 1517. Martin Luther pointed out the 95 corruptions in the Vatican especially its rampant sale of indulgences - to build the mammoth St. Peter's Basilica - that condemned to hell even the poor if they did not buy them.
UNITED KINGDOM
Catholic Herald
The winner of the prize will be announced on Friday
Pope Francis is among the front runners for the Nobel Peace Prize which will be announced on Friday morning.
Pope Francis is not the only Catholic among the contenders because an Eritrean priest is also a front runner for the prestigous prize.
Fr Mussie Zerai set up a hotline for refugees from his country making the perilous journey to Europe so that they can call the priest when they face difficuly.
Fr Zerai takes migrants' calls from satellite phones and then communicates GPS coordinates to Italy's coast guard and EU naval authorities so that they can launch a rescue.
Pope Francis is a strong contender for the prize due to his environmental credentials after it emerged that he had played a significant role in improving relations between the US and Cuba last December.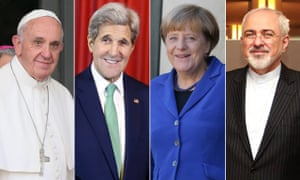 From Pope Francis to Angela Merkel: the top contenders for the 2015 Nobel ​peace ​prize
Angela Merkel and Pope Francis among frontrunners, but winner proving hard to call amid political intrigue
No politician and plutocrat should win the Nobel Peace Prize -- because they are all part of the problem that breeds poverty and wars.....
.
e
Angela Merkel and Pope Francis among frontrunners, but winner proving hard to call amid political intrigue