Eric Gill's pervert statue of St. Michael the Archangel for idiot Catholics akin to John Paul II statues. Da Vinci and St. Francis of Assisi were GAYs
St. Michael the Archangel inspires and impels our blogs and something must be said in his defense and the need to denounce one of his statues - where he is depicted like a nun dressed in pink robe -

which

was sculpted by famous Eric Gill whose works are also on display at high-profile locations in Westminster Cathedral in London, the BBC's Broadcasting House and the

European HQ of the United Nations in Geneva. The pervert statue in question

includes fonts for holy water and a Scottish man is spearheading for it to

be removed

from Dumbarton church

.

Eric Gill was a sexual deviant known to have had intimate relations with two of his daughters and his sisters and his sculptor of St. Michael the Archangel resembles a nun with veil and long dress - all in pink - with the posture of a
hermaphroditic
.
This pink statue of St. Michael was not only sculpted by a sexual pervert but the statue itself is a pervert. Look at the photo of the statue. What you see immediately is a thin figure of a woman dressed like a nun with veil and long robe all in pink. His or her feet are engulfed (by a necklace) - by a fat colorful snake with the colors of the flags of Belgium (because this statue of St., Michael was a gift of parents of a soldier who was killed in Belgium). The five toes of one of his or her feet are shown near the head of the snake but nonetheless the rest of his feet are surrounded by the snake whose big head is looking up at him. Because the snake coils around his or her entire feet and ankles - that would mean that St. Michael cannot move at all and he is therefore a prisoner of the snake.
Then look at the arms and their positions. The left arm is positioned across the chest and pointing at the right armpit -- like the
hermaphroditic St. John the Baptist by sexual pervert Leonardo da Vinci -- see image and articles below.
The right arm is over the head and holding a sword across the other side on the left shoulder.
Has anyone seen any sword fight with this idiotic unrealistic position?
Only idiot Catholics and idiot Catholic parents would bring their children to touch the holy water font in front of the statue and then make the sign of the cross with it -- as if those holy water bleesed by pervert Catholic priests have supernatural powers in them.
Read all the idiotic Catholic holy waters and relics and statues that
Filipinos
idiot Catholics uses and adore.
Philippines idiot Catholics. Opus Dei Beast PR Stunt of the Day "Pope Francis: No to clergy sex abuse" is a pack of pathological lies
http://popecrimes.blogspot.ca/2014/07/philippines-idiot-catholics-opus-dei.html
.
Only idiot Catholics would pray to this pervert statue of St. Michael the Archangel created by the famous sculptor Eric Gill. Only stupid Catholic women would bring their children and teach those innocent souls of the supernatural effects of this statue and the hypocritical "holy" water font in front of it – that was blessed by the same important priests who have no power to re-produce Christ in the Eucharist Satanic Mass because he can't re-produce dead ants and dogs either. This pink pervert statue of St. Michael the Archangel has the same principle as the statues of Satanas St. John Paul II – he is the one who is a pervert because he has evil Achilles Heels. For John Paul II, besides his giant statues in Catholic churches worldwide, it his relic of his blood that was drawn before he died (this is the first of its kinds, usually it's a bone or a cloth worn by the saint) that will be brought to innocent children to venerate.

Parents will be bringing their children but what will they tell them why they are kissing his blood and what was his accomplishment as a saint – for children – as "the Holy Father" -

read more here - Cold-blood-ed John Paul is no saint for children because he said nothing and did nothing to save and protect them for 27 years

http://popecrimes.blogspot.ca/2014/05/cold-blood-ed-pope-john-paul-ii-is-no.html

.
Infamous Eric Gill's pink statue of St. Michael the Archangel in
Scotland
This pink statue of St. Michael the Archangel is one of the biggest insults to the mighty archangel that cast Lucifer out of Heaven into the lake of fire of hell. Revelation 12:7-9

ESV
"Now war arose in heaven, Michael and his angels fighting against the dragon. And the dragon and his angels fought back, but he was defeated, and there was no longer any place for them in heaven. And the great dragon was thrown down, that ancient serpent, who is called the devil and Satan, the deceiver of the whole world—he was thrown down to the earth, and his angels were thrown down with him."
And the great dragon was thrown down, that ancient serpent, who is called the devil and Satan, the deceiver of the whole world—he was thrown down to the earth, and his angels were thrown down with him.
You are of your father the devil, and your will is to do your father's desires. He was a murderer from the beginning, and has nothing to do with the truth, because there is no truth in him. When he lies, he speaks out of his own character, for he is a liar and the father of lies
Dumbarton man Stuart Coleman told the Lennox Herald: "I find it detestable that art by such a man can be happily displayed publicly... I just find it at least inappropriate and
at most absolutely shocking and appalling that children will be regularly touching this statue to take from it holy water.

It makes the skin crawl to think it was hand-crafted by a publicly known paedophile and put on display in such a prominent way."

The exact same thing must be said of John Paul II – it is

most absolutely shocking and appalling that children will be regularly touching

statues and relics and medals of John Paul II because he said nothing and did nothing to save and protect children for 27 years in his globetrotting papacy hence those thousands of bestial pedophile priests worldwide are aptly named after him as JP2 Army – John Paul II Pedophile Priests Army , read more JP2 Army in Puerto Rico! Plague of Pedophile Priests in Latin America! John Paul II the Patron Saint of Pedophiles, Pederasts & Rapists-Priests

http://pope-francis-con-christ.blogspot.ca/2014/02/jp2-army-in-puerto-rico-plague-of.html
Stuart Coleman is spearheading the removal of this statue but St Patrick's parish priest, Canon Gerry Conroy, already said the statue would stay in place. "I don't approve of what Eric Gill did," he said, "but if you were to remove this piece you'd have to do the same all over. And it's also a war memorial." That's not a surprise at all for what else can idiot Catholics expect from their priests who are false magicians who have no powers to re-produce dead ants and dead dogs and therefore cannot re-produce the flesh-and-blood- of Jesus who was born 2,000 years ago, died and resurrected to Heaven.
There's no need to queer Da Vinci. The homoerotic character of his work has been plain to see for over half a millennia, already. Focusing on his celebration of masculine beauty, the National Gallery's recent
Painter at the Court of Milan
show made welcome, if somewhat discreet steps, in acknowledging the Italian artist's sexuality.
Leonardo Da Vinci
was tried at a sodomy tribunal in 1476. He painted at least two titillating St Johns: the Louvre's

hermaphroditic
St. John the Baptist
,

stripped to a cascade of curls and some leather, and the coy androgynous Beloved Disciple in Milan's
Last Supper
. Alongside the transgender boys, there is the
Mona Lisa
(which can be Leonardo's cross-dressing self-portrait,
Virgin and Child with Saint Anne
, which philosopher and psychoanalyst
Julia Kristeva
sees as revealing of the birth of the self where our inner life begins with the eternal triangle of the loving gazes of… grandma, mum and baby.
Interest in the unsettling images and complex private life of Da Vinci testifies to his greatness, his drive and his genius. Da Vinci's paintings are no-holds barred experiences which unleash passions, and defy stereotypes. Appropriately, the Renaissance artist was responsible for numerous studies of the male nude. The adolescents in his portraiture are evil flirts. Lascivious in colours, lurid in shapes, lush in gestures, mysterious in his trademark smoky painting (the

sfumato,

which Sigmund Freud once noted) – his paintings ooze sensuality. Questions are still being asked about Da Vinci today: Are these men or women in his pictures? Is the subject of his work male beauty, or female portraiture? Are his subjects seductresses or tempters? The ambiguity of Da Vinci's representations of gender remains intensely subversive.
There's no end to meddling with Da Vinci. Freud attributed a fellatio fantasy to the baby Leo. In his thriller
The Da Vinci Code
, novelist Dan Brown changed John, the disciple Jesus loved, who languishes next to his Master in the

Last Supper

, into Mary Magdalene. Now Jonathan Jones says the Renaissance giant was
almost certainly gay
, but celebrated women in his portraits. It makes sense. We, gay men, worship women! Compare the queer adulation of divas, mothers, and fag hags. There's no difference. Jones illustrates Da Vinci's iconophilia of women by making reference to Da Vinci's
Lady with an Ermine
, held by the
Princess Czartoryski Museum
. The Lady constitutes an enigma no less than the overexposed smile of the Mona Lisa.
Today, Poles condemn the picture to a variety of traveling exhibitions (for example, by lending it to the National Gallery.) It could very well be retitled

The Wandering Voluptuous Lady with a Stoat

. Yes, it's a stoat in the painting, which happens to be the unfortunate sex toy of closeted Hollywood stars. Why was it meant to represent the 'Splendor of Poland' to a foreign audience if it has been in the country since 1800, albeit with a fifty-year break for Paris, and a couple of years for Nazi looting? In Communist Poland, we hung cheap reproductions of the Lady in our prefab flats. Women and hippies modelled their hair after her coiffure.
In
Lost Battles
, Jonathan Jones tells the story of Da Vinci's criticisms of Michaelangelo's David, for its nudity. Was the celibate painter threatened by its openness?

The Painter at the Court of Milan

's focus on Da Vinci's sexuality creates a new opportunity for reopening such discussions of his carnal and spiritual conflicts. Martin Kemp was quick to note this,
stating
that the exhibition 'could mark a turning point for Da Vinci scholars.'
For those of us who are academics, yes. Obviously. However, I would be remiss if I did not add that it was also a turning point for everyone who attended the show. Queer visitors, I'd wager, included.
Photograph courtesy of
Ronan_tlv
. Published under a Creative Commons license.
Francis of Assisi's queer side revealed by historical evidence
http://jesusinlove.blogspot.ca/2012/10/francis-of-assisis-queer-side-revealed.html
Francis of Assisi and the man he loved in "They Shelter in a Cave"
by José Benlliure y Gil, 1926 (
Wikimedia Commons
)

Historical records reveal a queer side to Saint Francis of Assisi, one of the most beloved religious figures of all time. The 13th-century friar is celebrated for loving animals, hugging lepers, and praying for peace, but few know about his love for another man and his gender nonconformity. His feast day is today (Oct. 4).

When Francis (1181-1226) was a young man, he had an unnamed male companion whom he dearly loved -- and who was written out of history after the first biography. Other Franciscan friars referred to Francis as "Mother" during his lifetime. He also liked to be greeted as "Lady Poverty." He encouraged his friars to live as mothers with children when in hermitage together, and used other gender-bending metaphors to describe the spiritual life.
Lady Jacoba
also known as
Brother Jacoba
(See full image below)


Francis allowed a widow to enter the male-only cloister, naming her "Brother Jacoba." (Details about Jacoba are at the end of this article.) His partner in ministry was a woman, Clare of Assisi, and he cut her hair in a man's tonsured style when she joined his male-only religious order.
Early evidence of these and ways that Francis crossed gender boundaries are gathered in the ground-breaking unpublished master's thesis "Gender Liminality in the Franciscan Sources" by Kevin Elphick

,

a Franciscan scholar and a supervisor on a suicide prevention hotline in New York. He wrote the thesis for a master's degree in Franciscan studies from St. Bonaventure University in New York.
Francis' love for another man is described in his earliest biography,
The First Life of St Francis of Assisi
by Thomas of Celano, a follower of Francis who knew him personally. T
he biography was completed by 1230, just four years after Francis died. Celano says that when Francis was in his 20s, before embracing a life of poverty, he dearly loved a special male friend:
"Now there was a man in the city of Assisi whom Francis loved more than any other, and since they were of the same age and their constant association and ties of affection emboldened Francis to share his secret with him, he would often take this friend off to secluded spots where they could discuss private matters and tell him that he had chanced upon a great and precious treasure. His friend was delighted and, intrigued by what he had heard, he gladly accompanied Francis wherever he asked. There was a cave near Assisi where the two friends often went to talk about this treasure."

In his thesis, Elphick points out, "Because homosexuality and 'gay' identities are modern constructs, it is impossible and inaccurate to attempt to read these modern categories into the personalities of historical figures." Instead he uses the word "homoaffectional" to describe the relationship of Francis and his beloved companion.
"The relationship is inescapably homoaffectional, describing a shared intimacy between two Medieval men. That this first companion disappears from the later tradition is cause for suspicion and further inquiry.... The tone in Celano's earliest account captures the flavor and intimacy of this relationship, perhaps too much so for an increasingly homophobic church and society."

Francis and his beloved friend are seldom depicted by artists, but they are shown together in the rare and hard-to-find image above: "They shelter in a cave" (Se cobijan en una cueva) by Spanish painter José Benlliure y Gil. It is the 8th in his series of 74 images from the life of Saint Francis. The series was published by Franciscans in Valencia, Spain, in 1926 in a book to mark the 700th anniversary of the saint's death

.

A commentary in Spanish about the picture is available online.



Elphick finds many more examples of what he calls "gender liminality" in historical documents on Francis. He defines liminality as "crossing the threshold of gender, either symbolically, or by actions within a person's life that breach the social boundaries of gender."





Francis was born to a wealthy Italian family in 1181 or 1182. As a young man he renounced his wealth, even stripping off his clothes, and devoted himself to a life of poverty in the service of Christ. He connected with nature, calling all animals "brother" and "sister" and celebrating them in his famous

Canticle of the Sun

.
"St. Francis 'Neath the Bitter Tree"
By William Hart McNichols © fatherbill.org
He saw the face of Christ in lepers, the most reviled outcasts of his time, and nursed them with compassion. William Hart McNichols puts Francis' ministry into a contemporary context by showing him embracing a gay Jesus with AIDS in "St. Francis 'Neath the Bitter Tree," pictured here. Words on the cross proclaim that Christ is an "AIDS leper" as well as a "drug user" and "homosexual," outcast groups at high risk for getting AIDS. The two men gaze intently at each other with unspeakable love as Francis hugs the wounded Christ. It was commissioned in 1991 by a New Jersey doctor who worked with AIDS patients, and is discussed in the book Art That Dares: Gay Jesus, Woman Christ, and More
by Kittredge Cherry.
A famous peace prayer is attributed to St. Francis. It begins, "God, make me an instrument of your peace." Late in his life Francis embodied this message through man-to-man Christian-Muslim dialogue in the Mideast, a region where people are still at war.

In 1219 Francis went to Damietta, Egypt, with the European armies during the Fifth Crusade. He hoped to discuss religion peacefully with the Muslims. He tried to prevent Crusaders from attacking Muslims at the Battle of Damietta, but he failed. Francis was captured and taken to the sultan Malek al-Kamil. At first they tried to convert each other, but each man soon recognized that the other already knew and loved God. They remained together, discussing spirituality, for about three weeks between Sept. 1 and Sept. 26. Robert Lentz celebrates their meeting as a model of interfaith dialogue in the icon "St. Francis and the Sultan," pictured here.
"St Francis of Assisi Receiving the Stigmata"
by Kevin Raye Larson © 1991, krayel.com
In 1224, when Francis was in his 40s, he received the stigmata -- marks like the crucifixion wounds of Christ in his hands, feet and side. California artist Kevin Raye Larsonemphasizes the sensuality of the ecstatic moment in "St Francis of Assisi Receiving the Stigmata," pictured here. The painting has appeared on the cover of the spirituality issue of "Frontiers," the Los Angeles gay lifestyle magazine.

Along with the stigmata came other health problems. When Francis sensed death approaching, he called for Jacoba de Settesoli, a Roman noblewoman devoted to him and his teachings. Francis stayed in her house when in Rome. Celano's 13th-century account in the "Treatise on the Miracles of Blessed Francis" reports that Francis greeted the news of her arrival at the male-only cloister with a decidedly queer statement that breaks gender rules::
"Blessed be God, who has guided the Lady Jacoba, our brother, to us. Open the door and bring her in, for our Brother Jacoba does not have to observe the decree against women."
The widow called "Brother Jacoba" by Francis kneels near the dying Francis of Assisi in "48. Jacoba of Settesoli is associated with the mourning" (Jacoba de Settesoli se asocia al duelo) by José Benlliure y Gil, 1926 (Wikimedia Commons)

Francis died a few days later on Oct. 3, 1226. Two years after Francis' death, Pope Gregory IX declared him a saint and commissioned Celano's biography, the one that includes the love between Francis and his male companion.

Elphick adds an intriguing footnote about how the queer side of Francis has manifested outside official Christianity. Francis is venerated in the Yoruba religion of Africa as Orunmila, the orisha of wisdom, patron of animals and a transgendered deity who engages in same-sex eroticism.

At the end of his thesis, Elphick concludes that breaking gender rules is an extraordinary God-given power or "charism" that Franciscans offer to the church and the world.
"What are the lives of figures like Mother Francis, Brother Jacoba and Mother Juana de la Cruz revealing to us in our own day? I think that the Franciscan charism of gender liminality has much to teach our Church and fellow community of humans in our day. In a church divided over issues of ordination of women, inclusive language, and sexual orientation, I believe that the Franciscan tradition has important figures to hold up and from whom to learn. For issues which we have not even yet begun to explore theologically in authentic ways, issues such as hermaphroditism, transsexuality, genderedness and sexual orientation, I believe the Franciscan voice can be prophetic."
Francis of Assisi and the man he loved in "They Shelter in a Cave" by José Benlliure y Gil, 1926 (
Wikimedia Commons
)
========
Traditional image of St. Michael the Archangel
He is dressed as a warrior and he stands over the Devil over the lake of fire.
He holds a sword ready to slay the defeated Devil.
He also holds a scale of justice.
http://nypd.police-officers-prayer-to-saint-michael/
New York Police Officer Prayer
Every person, Catholic, Muslim, whatever faith should pray this prayer - instead of the stupid robotic Rosary, read here
Rosary could not defeat JP2 Army John Paul II Pedophile Priests Army in the 20th Century ... unlike the Battle of Lepanto in the 16th Century
http://jp2m.blogspot.ca/
St. Michael, Heavens glorious Commissioner of Police, who once so neatly and successfully cleared Gods premises of all its undesirables, look with kindly and professional eye on your earthly force.
Give us cool heads, stout hearts, hard punches, an uncanny flair for investigation and wise judgment. Make us the terror of burglars, the friend of children and law-abiding citizens, kind to strangers, polite to bores, strict with law-breakers and impervious to temptations.
You know, St. Michael, from your own experiences with the devil that the police officer's lot on earth is not always a happy one; but your sense of duty that so pleased God, your hard knocks that so surprised the devil, and your angelic self-control give us inspiration.
And when we lay down our nightsticks, enroll us in your Heavenly Force, where we will be proud to guard the throne of God as we have been to guard the city of men
Christ inspires and tells us that he wishes to be freed from the slavery of the Eucharist and be freed from the golden tabernacles in all Vatican Catholic churches worldwide
– because all these are tools of the Vatican Mammon Beast to subdue people with feel-good theology – which are only pathological lies – that perpetuate their poverty and injustice and violence - via the Vatican Concordats, read more here in our article, Abolition of Vatican Concordat in Dominican Republic and bring pedophile Papal Nuncio and other pedophile Polish priests to justice
http://popecrimes.blogspot.ca/2013/10/abolish-vatican-concordat-in-dominican.html
This post and blogs are inspired by St. Michael the Archangel whose flaming sword defends us from Goliath bullies of Opus Dei Beast Mafia.
St. Michael shows us - through the much canonization news coming out this week – (see compilation below) – that there are more journalists speaking out against John Paul II's sainthood, therefore our blogs all these years have not been in vain.
Read Paris Arrow's vision of St. Michael tying the giant millstone around John Paul II's papal neck during his last World Youth Day in Toronto in 2002, as JP2 vehemently refuse to apologize and stop his bestial JP2 Army – John Paul II Pedophile Priests Army, St. Michael dragged him and threw him into a raging sea of fire as stupid Catholic robots chanted "JP2, we love you".
http://jp2m.blogspot.ca/2011/09/911-decade-and-jp2-millstones-9th.html
Beware, Francis-Maniacs for the demise of the Vatican Temple akin to the Temple of Solomon is at hand!
UNITED STATES
PopeCrimes& Vatican Evils.
Paris Arrow
The 1.2 billion baptised Catholics in the world are all idiots. Which is more precise to say, "Idiot Catholics" or "Catholic idiots"?
For sure, Goliath-bully Bill Donohue of Catholic League would know the correct answer since he is the leader of the pack especially the "American idiot Catholics" or is it "American Catholic idiots"?
The biggest circus on earth is happening in the smallest country of the Vatican. It is the Octopus Dei Beast Circus starring Pope Francis with his one-man show of multiple acts with his trademark of his podgy papal butt and with the support of Vatican Pied Pipers headlines worldwide (see their articles below with our highlights and comments). The Vatican Circus is bigger than the Cirque de Soleil and the Roman Circus of Nero. From acting (preaching) St. Peter's weep on sexual abuse to tackling the Mafia that now endangers his life (LOL – there'll be soon stuntmen with rifles at St. Peter's Square), Pope Francis is the fattest Golden Cow circus production ever created by the Opus Dei Beast Frankenstein Pope & Saint Factory since John Paul II the Great.
UNITED STATES
PopeCrimes& Vatican Evils.
Paris Arrow
Pope Francis imitates Saint John Paul II the Great
Pope Francis is imitating – (not Jesus) – but his Holy Father of Lies John Paul II the Great – read our related article, Cold-blood-ed John Paul is no saint for children because he said nothing and did nothing to save and protect them for 27 years
http://popecrimes.blogspot.ca/2014/05/cold-blood-ed-pope-john-paul-ii-is-no.html
With pompous fanfare of empty words, words, words, the Opus Dei Beast PR Deceits Team arranged theatrics for John Paul II to ask forgiveness for many famous (e.g. Crusades, Galileo) Church crimes but not for his own singular crime and biggest sin which was his complicit hidden JP2 Army – John Paul II Pedophile Priests Army with his poster boy and evil Achilles Heel, Cardinal Bernard Law of Boston, read more here
http://jp2m.blogspot.ca/
UNITED STATES
PopeCrimes& Vatican Evils.
Paris Arrow
On June 23, 2014, Pope Francis met with Kenneth Copeland and 8 other US evangelicals at the Vatican. It was a perfect timing to coincide with the Copeland's annual convention in Forth Worth Texas from June 30 to July 5 where Kenneth spoke about the Pope during an entire session. which he never did in his entire 40 years ministry. Below is a compilation of disagreement and anger from his followers which is very enlightening. So is this why Pope Francis cancelled his daily mass for the summer and his weekly Wednesday Angelus because he wanted to use those time for meeting with other religions and other sects and evangelicals like Kenneth Copeland – instead of meeting his usual Francis-Maniacs Catholic zombie and stupid nuns in St. Peter's Square on Wednesday Angelus?
UNITED STATES
POPE FRANCIS the CON-Christ.
Paris Arrow
Jesus said, "but whoever causes one of these little ones who believe in me to sin, it would be better for him to have a great millstone fastened around his neck and to be drowned in the depth of the sea." (ESV Mathew 18:6) Read the John Paul II Millstone http://jp2m.blogspot.ca/
Pope Francis's papal mass is the apex of the Eucharist Satanic Mass and it heals no one and it only fools everyone.
Pope Francis said in his homily at a papal mass with 6 abused victims that these "despicable actions" had been "camouflaged with a complicity that cannot be explained." How stupid can 1.2 billion Catholics get not to be able to see Pope Francis is papal farting Opus Dei Beast pathological lies again at them?
Ireland leads nations to close Vatican Embassy…beginning the end of the Holy See! Vatican Bank cannot buy souls of SECULAR government officials
http://popecrimes.blogspot.ca/2011/11/ireland-leads-nations-to-close-vatican.html
The Jesuits aided and abetted the Vatican Inquisitons - even St. Francis Xavier implemented them in India. A Hindi man is contesting the incorrupt body as belonging to a monk
Hidden Heist in the Holy See. The SECRET biggest heist in the history of mankind! Pope Francis is the Greatest THIEF on earth.
Pope Francis controls Wall Street and despots wars
The real Mother Mary of Jesus was not silent or stupid like nuns
Stupid Catholic women and nuns should learn from the real Mary the Mother of Jesus brought Him to the synagogues and the Temple of Solomon when he was a boy and all He did was questioning the powers of the Pharisees High Priests – that's in the fifth Joyful mystery of the Rosary. But as an adult Jesus stopped going to the synagogues because He saw the evil of organized religion and the hypocrisy of those holy High Priests Pharisees who usurped the money of the poor but outwardly prayed like robots which the Opus Dei does with the Angelus and the Rosary and daily Eucharist. His mother followed Him throughout His ministry and likewise stopped going to church.
Then Jesus did the unthinkable, he cursed the Temple of Solomon (prescribed in detail by His Father in the Bible) to the ground – except perhaps for the jewels or wealth that King Solomon accumulated and hoarded in the Temple brought by kings and queens – this would be tantamount to the Vatican Bank and secret Vatican Swiss Banks because the Vatican owns Switzerland, hence the Swiss Guard Army that train all Swiss men to be obedient to the Pope, the monarch of Switzerland.
Jesus' Mother followed His curse on the Temple of Solomon and all its wealth 2,000 years later. In the Third Secret of Fatima when she appeared to Sr. Lucy and the other two young children, she showed them an image of Hell where there are thousands of pedophile priests burning because of their crimes against children and she predicted that the Vatican will also be destroyed like the Temple of Solomon - that not one pillar at St. Peter's Square will be left standing -- because Her Son is not part of the Evil Vatican. In the Temple of Solomon Jesus got angry and drove the merchants and overthrew their tables of money – they would be equivalent to the secret Vatican Swiss Banks today. That is why, all the popes never revealed the real Third Secret of Fatima or there'd be a countdown at St. Peter's Square.
Stupid Catholic women and nuns should learn from the real Mary and not the plastic idle statues like the IDLE giant statue of St. Joseph at the Oratory who watched for 50 years over the College Notre Dame (named again after Mary) where hundreds of students were sodomized by pedophile priests, read here =
http://popecrimes.blogspot.ca/2013/11/oratory-of-saintjoseph-pedophile.html
Mary inspires us to tell the world that she finds the sound of callous heartless Rosary like the sound of a broken record, read why the Rosary could not defeat the JP2 Army – John Paul II Pedophile Priests Army here
http://jp2m.blogspot.ca/
.
But how do you enlighten 1.2 billion Catholics that Jesus Christ wants to be set free from the Vatican -- and that Christ is like the air they and mankind breathe-in – Christ cannot be cloned by priests – in no matter shape or form in the white host and wine – and Christ cannot be imprisoned in gold tabernacles like the air -- and that they do not need to go to evil Vatican Catholic Churches to worship Him because as He said, "The Kingdom of God is within you"? Christ keeps telling us that ALL of the 1.2 billion Catholics support directly the Vatican Mammon Beast and the secret Vatican Swiss Banks that hoard the wealth of the 1% wealthiest people in the globe, hence Pope Francis is responsible for all wars and violence in the world.
Typical of its strategy as in the JP2 Army – John Paul II Pedophile Priests Army, the Vatican Catholic Church has already distanced itself as the Archbishop said "the church has no records and we must not judge the past" (see compilation of news below with our emphases). He washed his hands and says that the church has no records of them – just like cardinals and bishops keep denying about pedophile priests – or they'd spend millions of dollars on lawyers' fees to keep their records from the public like Cardinal Mahony did in Los Angeles.
The Irish 800 babies buried in a septic tank saga
Most headlines do not mention that it was the stupid Roman Catholic nuns in Ireland who were responsible for dumping 800 babies found in a septic tank between 1927-1961 and the Archbishop has washed his hands (like Pontius Pilate) and said the diocese has no records of them.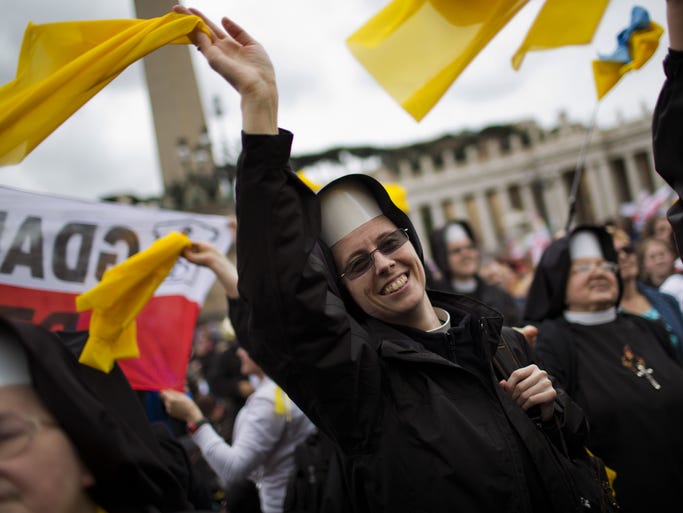 Stupid Catholic nuns
worshipping the Opus Dei Beast
new Golden Cow Saint John Paul II.
John Paul II and sorcery of Eucharist - he cannot clone an ant or a dog -- and therefore he cannot clone Christ either
IRISH PRIESTS DUPLICITY & HYPOCRISY
Irish Times cartoon shows duplicity of priests. Sacrament of Confession's absolute choice to protect pedophiles. Priests' callousness towards children's security and well being - read here
Amazing how Jesus has lose his Middle East roots and Jewish identity
(albeit born in Bethlehem, Palestine, a Muslim country) and lose His Biblical mission as a poor itinerant preacher for He has become Roman Catholic and hostage of the most tiny country - the Vatican City where He is also the most caged captive in gold tabernacles by tyrant evil popes – those 2,000 year old chameleons Pretenders and Impostors of Jesus and con-artists CON-Christ popes. From mass murderers, thieves, pedophiles, gays, adulterers like the Borgias, to John Paul II the Great Saint of Pedophiles, to Pope Francis the Worst Thief of Mankind – all popes use Christ as their mask, disguise and bait to serve one master alone –the Vatican Mammon Beast a.k.a. Opus Dei Beast ruling in the Vatican Palace - with only one goal - to preserve the Vatican Billions in secret Vatican Swiss Banks because the Vatican owns Switzerland. Hence there's the unique Swiss Guard Army wherein all Swiss young men are required to go and serve at the Vatican before they can become bankers, investment managers and civil officers in Switzerland because the Vatican pope is its sole monarch. Believe it or not! There was a former Swiss Guard who came to Boston to recruit investors as he was the CEO of an investment company, read about him in our other blog http://popecrimes.blogspot.ca/2011/10/opus-dei-seminar-on-pope-and-ceo-world.html
Pope Francis, the two new pope saints John XXIII and John Paul II, Benedict XVI, and all popes definitely do not resemble one iota Jesus the Poor Carpenter of Nazareth and Poor Fisherman in the Sea of Galilee! A

ll movies portray Jesus as tall, lean and handsome but all popes, his assumed 'Vicar of Christ', have been FAT like COWS podgy, white

and really hideous and repugnant they need the long white papal robe to constantly segue attention from their ugliness.

Just look at the porky ass of Pope Francis that control 1.2 billion Catholics and the media world with his duck dance of wibble wobble Opus Dei Beast PR stunts. Look at this gigantic poster in Rome of porky ass Pope Francis with the two fat popes new saints he canonized –John XXIII and John Paul II the 27 years globetrotting narcissistic pope – who said nothing and did nothing to protect children from his JP2 Army – John Paul II Pedophile Priests Army aptly named after his 27 years globetrotting papacy - and 1.2 billion stupid Catholics now adore them as their new fat Catholic Golden Cows.
TALL, LEAN, HANDSOME JESUS
the poor fisherman of the Sea of Galilee
3
FAT well-fed cows -
ROMAN POPES
-- they do NOT resemble
Jesus
Christ one iota
CON-Christs con-artists
Pretenders & Impostors of Jesus
LIARS & HYPOCRITES
- cannot clone Christ, ants or dogs

- they are sorcerers in the Eucharist
- false magicians

who cannot clone Jesus the Son of God

fat popes cannot reincarnate or clone -Creator of the Universe

The Popes' Master is the Vatican Mammon Beast - because he is the owner of Switzerland and the secret Vatican Swiss Banks - hence the Swiss Guard Army.
HOAX of Eucharist
- instant reincarnation of Christ's flesh and blood
is the
worst Satanic Mass & sorcery of mankind
Popes and priests cannot clone ants and dogs and therefore
they

cannot clone Jesus the Son of God the Creator of the Universe!
9-months of Jesus in Mary' womb
Christ inspires and tells us that he wishes to be freed from the slavery of the Eucharist and be freed from the golden tabernacles in all Vatican Catholic churches worldwide
– because all these are tools of the Vatican Mammon Beast to subdue people with feel-good theology – which are only pathological lies – that perpetuate their poverty and injustice and violence - via the Vatican Concordats, read more here in our article, Abolition of Vatican Concordat in Dominican Republic and bring pedophile Papal Nuncio and other pedophile Polish priests to justice
http://popecrimes.blogspot.ca/2013/10/abolish-vatican-concordat-in-dominican.html