Introduction: Look at this image that carried by the corporate media worldwide...Pope Francis blesses a man, suffering from neurofibromatosis, in Saint Peter's Square at the end of his General Audience in Vatican City. Photograph: Claudio Peri/EPA from The Guardian, UK, November8, 2013 The article was entitled,
"Pope Francis kisses a disfigured man – and shows politicians the lost virtue of humility" with a subtitle "
Is this a publicity stunt? No, because it expresses more than an empty gesture ever could" . But it is a publicity stunt because who benefits from this but Pope Francis and deceived people to blindly obey his Vatican powers. Read our artcile about Pope Francis USA visit: Pope Francis says that God weeps but he keeps laughing and laughing. http://pope-francis-con-christ.blogspot.ca/2015/09/god-weeps-but-francis-keeps-laughing-as.html
http://www.theguardian.com/commentisfree/2013/nov/08/pope-francis-kisses-disfigured-man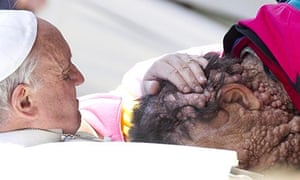 MEXICO
El Economista
[The visit of Pope Francis to Mexico did not address the issue of victims of clerical pedophilia because that episode is part of a past history of the church whose authorities have faced the issue, according to Vatican spokesman Federico Lombardi.]
La visita del papa Francisco a México no abordó el tema de las víctimas de pederastia clerical debido a que ese episodio forma parte de una historia pasada de la Iglesia cuyas autoridades han enfrentado, informó el vocero del Vaticano, Federico Lombardi.
En conferencia de prensa celebrada en el marco de la visita del jefe de la Ciudad del Vaticano al país, Jorge Mario Bergoglio, a Morelia, Michoacán, el portavoz puntualizó que los casos de abuso sexual a menores por parte de sacerdotes católicos son significativos e importantes para el clero; sin embargo, "es parte de nuestra historia, pero no hay necesidad de continuar con toda la historia futura hablando de los problemas que hemos confrontado".
MEXICO
La Jornada
[Outraged by the presence of Cardinal Norberto Rivera Carrera with Pope Francis on his arrival in Mexico, Juan Carlos Cruz Chellew, victim of sexual abuse of Catholic clergy and one of the most important Latin American complainants to the Holy See, said he is very disappointed the pope . The presence of Cardinal Rivera is a symbol that the Pope does not take importance the victims of priestly pedophila. He said the cardinal has protected Mexican priests and abusers.]
Sanjuana Martínez
Especial para La Jornada
Periódico La Jornada
Domingo 14 de febrero de 2016, p. 8
Indignado por la presencia del cardenal Norberto Rivera Carrera junto al papa Francisco a su llegada a México, Juan Carlos Cruz Chellew, víctima de abusos sexuales del clero católico y uno de los más importantes denunciantes latinoamericanos ante la Santa Sede, dice sentirse muy decepcionado del pontífice.
"La presencia del cardenal Rivera es símbolo de que al Papa no le importamos las víctimas de pederastia sacerdotal. El cardenal es un monstruo para todos nosotros porque ha protegido a los curas mexicanos abusadores, y pasearse con él en el papamóvil y verlos juntos como grandes amigos me produce repulsión y un dolor enorme. Ambos se burlan en nuestras caras. Al Papa se le cayó su máscara de sacerdote bondadoso; no le interesan las víctimas de pederastia clerical".
Desde hace 20 años, el cardenal Rivera Carrera ha sido denunciado ante el Vaticano por víctimas de abusos sexuales de sacerdotes. Lo acusan de no solamente proteger a los perpetradores con sotana, sino de ser cómplice de sus crímenes.
UNITED KINGDOM
The Guardian
Paul Vallely
Even by Vatican standards the timing is spectacularly inept. The six Oscar nominations for the movie Spotlight have refocused the attention of the world on the issue of paedophile priests inside the Catholic church –
almost certainly the biggest scandal to plague the institution in the past century. And yet, with disdain or disregard for world opinion,
just two weeks before the Oscars the most outspoken member of the pope's commission to combat sex abuse has been sacked.
Pope Francis is busy elsewhere. After Friday's historic meeting with the head of the Russian Orthodox Church – the first for almost 1,000 years –
he has been about his usual business: visiting prisoners, migrants, indigenous people and the families of victims of the violence of drug traffickers, this time in Mexico.
But in his absence
a hidden civil war inside the Vatican continues. On one side are reformers who want public accountability for abuser priests and the bishops who have overseen them
. On the other is the recidivist Roman old guard whose instinct for cover-up continues.
Two years ago Francis set up the Pontifical Commission for the Protection of Minors. It is made up of clerics, theologians, psychiatrists, therapists and – most significantly – two survivors of priestly sex abuse. The most vocal member was Peter Saunders, who founded the National Association for People Abused in Childhood, one of the world's most forthright anti-abuse campaigners.
His sacking last weekend is a signal that, behind the scenes, the Catholic church is reverting to its old bad habits.
Spotlight SAG award and OSCARS nominations ALL are BRIBED & BOUGHT by VATICAN.
Spotlight is half-truth and is NOT similar to All the President's Men
which had real footage of Richard Nixon. Spotlight obscured Cardinal Law…and concealed John Paul II
http://popecrimes.blogspot.ca/2015/12/spotlight-is-half-truth-and-is-not.html
Benedict XVI – RATzinger, God's Rottweiler
http://pope-
MINNESOTA
WTSP
John Croman, KARE-TV, Minneapolis-St. Paul
ST. PAUL, Minn. -- Father Finian McDonald, who for years worked as a counselor at St. John's University, had sex with at least 200 people and paid child prostitutes for sex while abroad, according to documents released on Tuesday.
Attorney Jeff Anderson released the
personnel files
of five monks and priests who were part of St. John's Abbey in Collegeville.
The five, including two who are now deceased, were previously listed by St. John's Abbey as credibly accused of child sexual abuse. Anderson said the redacted version of the posted on his website, show that
priests who admitted battles with sexual urges still had access to potential victims.
"What the files show us is a culture of permissive access by known offenders," said Anderson, who for decades has represented child sex abuse victims in lawsuits against the Catholic Church and other institutions.
These are documented crimes against humanity. The enablers knew exactly what they were doing and allowed it. They should be prosecuted, jailed for life if not executed. This order believes itself to be above and beyond the rest of the world, beyond the law and beyond their "God." We have freedom of religion, so be it. As for me, I prefer freedom FROM religion. I am a survivor, and it upsets me to hear from the people in t he pews that this 'church' is being attacked. If it is, it's because the brainwashed continue to give up their children to be sacrificed. Think about it, and justify this behavior for me.
These children and many others around the world were RAPED again and again. This is not something you get over this is something that you live with always. The Roman Catholic Church/Vatican is amoral, they have hidden and protected the church and priests for years and years, there is not enough money to make things right again. The Roman Catholic Church/Vatican is irrelevant group and not in any position to discuss morality, values or anything else. Recently, the Pope declared that "Jews will no longer be blamed for the death of Christ" so Church has been preaching hate of Jews for centuries because they taught
that Jews killed Christ, now they're no longer spreading hate of Jews ? AIDS, condoms can only be used by prostitutes, what kind of understanding of AIDS and the spread of AIDS don't these amoral, irrelevant, what are they protecting these heads of the Roman Catholic Church? They are protecting themselves, their power, control and manipulation of people and money which is all linked to the Roman Catholic Church. It's the Vatican that closes their eyes to anything they don't like or don't want to see and their continued efforts to protect the Church as in a "big Corporation" and it's survival. I'm so disgusted and if they think that people are buying into their apologies and holier than thou proclamations about anything they are mistaken.

How the Vatican Empire runs the best PR campaign in the world today…as the Roman Empire copycat. Via divinity of Caesars, popes, giant statues, coins