Inspired by St. Michael the Archangel whose flaming sword protects us and guide us on what to blog
UNITED STATES
Christian Catholicism
Jerry Slevin
Pope Francis appears to give much higher priority to protecting the interests of his Big Oil associated donors in the Middle East than to protecting Catholic children from priest sexual abusers enabled by his unaccountable bishops. The pope's top financial adviser, for example, is a former Chairman of BP, which has significant Middle East oil interests. This, and similar Vatican donor connections, seem to influence the pope's current approach of dangerously calling for another Middle East military invasion and imprudently provoking Muslim Turkey over 100 year old World War I atrocities involving Catholic Armenians. These connections may even affect the pope's expected encyclical on global warming.
The pope recently provoked Turkey needlessly over a century old controversy, only a few months after the pope visited Turkey to promote religious harmony. Turkey's leaders have warned the pope, among other things, suggesting the Vatican has its own skeletons to keep hidden. With the pope's still Secret Archives of Vatican dealings with Nazis and Fascists, including over assets stolen from Jews murdered in the Holocaust, as well as the Vatican's current sex abuse and financial scandals, Turkey has a point. Why did the pope provoke Turkey, and why now?
Meanwhile, the pope and his Council of Cardinals (C9) continued at their latest meeting to pay lip service to holding bishops accountable for child abuse facilitation. This is 30 years after Fr. Tom Doyle's searing "dead on arrival" secret report on pervasive priest child abuse to Pope John Paul II and US bishops. The C9, in effect, once again did nothing of substance, upon reviewing briefly the "do nothing results" so far of the pope's "go slow" abuse commission. Public objections by two prominent psychiatrist child abuse experts and two abuse survivors, all commission members, forced the C9 to at least go through the motions of a discussion two years into Francis papacy. The four members had traveled from their home countries to the pope's residence, but the pope avoided meeting with them. So much for "mixing with the sheep"!
Turkey is an a tough position. Syrian civil war refugees are pouring over one border, and threatening Kurdish forces are battling Islamic State (ISIS) forces near another border. As ISIS forces currently engage in fierce battles for control of Iraq's largest oil refinery, Big Oil and its allies, including some prominent Iraq War US neocons and seemingly the pope as well, are stepping up efforts for another Western military incursion in the Middle East. Many of the Iraq War neocon cheerleaders, including Paul Wolfowitz, are now advising Jeb Bush, the likely papal preference in next year's US presidential elections. Please see the related video here,
[Reuters]
As Ray McGovern, a Jesuit educated former CIA advisor under six US Presidents, astutely noted recently: "… the neocons are nothing if not resilient. Despite their grotesque disasters, like the Iraq War, and their disappointments, like not getting their war on Syria, they neither learn lessons nor change goals. They just readjust their aim, shooting now at Putin over Ukraine as a way to clear the path again for 'regime change' in Syria and Iran. …" . Please see McGovern's superb and informative, "Neocon 'Chaos Promotion' in the Mideast", here,
[Truth-Out]
and see also "Jeb Bush seeks tips from wide cast of foreign policy experts" here,
[Reuters]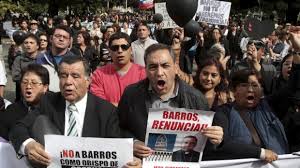 Protestors shout as bishops and priests enter the cathedral to attend the ordination ceremony as bishop of Rev. Juan Barros in Osorno, southern Chile
UNITED STATES
The Remnant
Written by Elizabeth Yore
"Look at what they do, not at what they say."

- Ex-Communist Louis F. Budenz -

Editor's Note: Remnant columnist, Elizabeth Yore, is an international child protection attorney who has investigated several cases of clergy sex abuse of children. She served as Special Counsel and Child Advocate to Oprah Winfrey. She is the former General Counsel of the Illinois Department of Children and Family Services and former General Counsel at National Center for Missing and Exploited Children. She is quite obviously a well-qualified expert in the field of child abuse prevention, which is why her testimony in this case is so disturbingly apropos. MJM
They still don't get it.
With great fanfare and media fawning, Pope Francis appointed Boston Cardinal Sean O'Malley to head the new Vatican Child Protection Commission to protect children from clergy sex abuse. O'Malley said the new commission would advise the pope about the protection of children and the pastoral care of victims of abuse.
Among the members of the child protection commission, was a clergy sex abuse victim, and an array of lay members from the medical, political, academic and diplomatic arena, along with two Jesuits. There was no legal document, no formal mandate or structure assigned to the commission, leaving some to criticize the commission as mere "window dressing."
The Pope assured Catholics that reform had finally arrived to the Vatican.
Pope Francis underscored the reform with stern words, "families need to know that the church is making every effort to protect their children and they should also know that they have every right to turn to the church with full confidence, for it is a safe and secure home."
Tough talk from the Pontiff, si?
Not so fast.
A year later Pope Francis is embroiled in a bitter scandal over his appointment of a Chilean Bishop who is accused of not only covering up clergy sex abuse of minors, but also of being present and observing the actual abuse of three male minors during the abuse. Chilean Catholics are red hot over this outrageous appointment. So much for the "reform Pope."
This past January, Reverend Juan Barros was appointed by Pope Francis to become Bishop of Osorno, a southern Chilean diocese. Since this announcement, the violent and loud outcry from Chilean Catholics and abuse victims can be heard as far away as the Pope's residence at Casa Santa Marta.
Chileans are furious over the appointment of Barros who clergy abuse victims contend covered up sexual abuse committed by his mentor, the charismatic Rev. Fernando Karadima, in the 1980s and '90s. Dr. James Hamilton, another teen victim of Karadima who is now 49 years old, stated that Barros also enjoyed watching Karadima commit the abuse. Another child victim recounted watching the sexual encounters between Barros and Karadima.
Barros was one of four bishops who were mentored by Karadima and defended him from the accusations. In 2011 during Benedict's papacy, a Vatican investigation found Karadima guilty of sexually abusing boys (who else) and sentenced the 84-year-old priest to a cloistered life of "penitence and prayer" in a monastery for nuns.
Initially, Chileans gave Pope Francis the benefit of the doubt. They believed that Pope Francis couldn't possible have all the information about Barros or else Francis would never have made the appointment. Over the years, these victims repeatedly asserted that Barros covered up and personally witnessed the child sexual abuse by Karadima at the Sacred Heart of Jesus church in an affluent neighborhood of Santiago.
Yet, the Vatican released a statement saying that Barros was fully vetted and the cover-up allegations were investigated and the Pope is satisfied in Barros' exoneration. The Vatican has issued its unequivocal support for his selection, saying it had investigated Barros thoroughly and found no "objective reason" to stop his appointment to the Osorno diocese. So much for reform.
More than 1,300 church members in Osorno, along with some 30 priests from the diocese and 51 of Chile's 120 members of Parliament, sent letters to Pope Francis in February urging him to rescind the appointment, which was announced in January and is set to take effect on March 21. Yet, the installation went forward.
UNITED STATES
National Survivor Advocates Coalition
Editorial
The National Survivor Advocates Coalition (NSAC) applauds the efforts of the two survivors on the papal commission regarding sexual abuse, Marie Collins of Ireland and Peter Saunders of the United Kingdom along with the two other commission members who supported their efforts to raise the issue at the Vatican of the unacceptability — to put it mildly — of Bishop Barros' appointment and installation as the head of the Diocese of Osorno, Chile.
Survivors in Chile accuse Bishop Juan de la Cruz Barros Madrid of covering up for the Rev. Fernando Karadima whom the Vatican convicted of abuse in 20011. Three Chilean survivors accuse Barros of witnessing their abuse by Karadima
While we applaud the actions of the commission members, we are appalled that they are the people who had to initiate the action to speak with the commission chair, Cardinal Sean O'Malley and through him seek to get the attention of Pope Francis.
Cardinal O'Malley, who not only is president of the papal sexual abuse comission but is a member of the Pope's kitchen cabinet, formally known as the Council of Nine, gets a newspaper and has access to radio, television, and Internet – and as a blogging Cardinal he certainly knows how to use the technology of communications.
CALIFORNIA
Marin Independent Journal
By Janis Mara, Marin Independent Journal
POSTED: 04/16/15
Prominent Catholics with Marin ties who signed a full-page Chronicle ad running Thursday asking Pope Francis to replace San Francisco Archbishop Salvatore Cordileone said they stand behind their decision.
The
open letter
cited morality clauses Cordileone proposed for a teacher handbook requiring teachers to "affirm and believe" that sex outside marriage and masturbation are "gravely evil," among other actions.
The open letter stated that the Archdiocese of San Francisco is threatened by Cordileone's "single-issue agenda and cannot survive, let alone thrive and grow under his supervision" and that San Francisco deserves a leader focused on service and diversity.
"We are really disappointed that the archbishop is extremely conservative and not flexible to meet the needs of the Catholic population he is serving," said Suzanne Swift of Tiburon, a former member of the board of directors of Catholic Charities CYO of the Archdiocese. She and her husband Brian, also a former board member, were two more than 100 people who signed the letter.
UNITED STATES
PopeCrimes& Vatican Evils.
Paris Arrow
It usually takes a month and a half for the Vatican to accept an envoy's credentials but its prolonged silence usually means a rejection. French President François Hollande has appointed – last January – his chief of protocol and a senior diplomat Laurent Stefanini to the Holy See. But since Laurent Stefanini is openly gay, the media is now exposing Pope Francis' refusal to accept Stefanini because of his open homosexuality. At the same time, the Vatican is reeling with scandals in Italy because of infamous gay Italian priests and by the way, have idiots Catholics forgotten the Vatican Gay Lobby that caused the downfall resignation of Benedict XVI-RATzinger – and the Vatican's poster gay Cardinal O'Brien of Scotland?
UNITED STATES
Bilgrimage
Discussions That Should Be Placed Side by Side: Abuse Survivors Want Juan Barros Removed as Bishop of Osorno, San Francisco Catholics Want Salvatore Cordileone Removed as Archbishop of San Francisco
William D. Lindsey
Two items I've read this morning strike me as a revealing synchronistic fit for one another. The first is Kristine Ward's editorial in today's edition of NSAC (National Survivor Advocates Coalition) News.*Kristi is commenting on the recent meeting of Marie Collins, Peter Saunders, and other members of the pope's abuse advisory commission with Cardinal Sean O'Malley, the pope's "fixer." She notes that NSAC members "are appalled that they [the lay members of the abuse advisory commission] are the people who had to initiate the action to speak with the commission chair, Cardinal Sean O'Malley and through him seek to get the attention of Pope Francis."
The members of the abuse advisory commission wanted to discuss with Pope Francis, of course, his choice to make Juan Barros (and here, here, and here), who has been accused of helping shield a fellow priest abusing minors, in bishop of Osorno, Chile. As Kristi's editorial notes, it's obvious that, despite widespread outrage at this appointment both in the diocese itself and in many quarters of the Catholic church, notably among survivors, "it borders on the near impossible that Bishop Barros' appointment will be rescinded."
This is true in part, she suggests, because the involvement of the influential and powerful Cardinal Angelo Sodano in the story of Barros's appointment cannot be discounted. As she points out, Cardinal O'Malley knows this perfectly well.
And so enter O'Malley "the fixer," through whom members of the papal abuse advisory commission have had to go to approach the pope himself: the NSAC News editorial sums O'Malley and his role vis-a-vis the abuse commission members' concerns in the following way:
He has finely honed the skill of the appearance of action and empathy.
If you enjoy theater, Cardinal O'Malley's performance that builds yet another protective tent for hierarchs while continuing to disguise him as a champion of reform is stellar.
Kristi explains what she means with these remarks suggesting

that O'Malley has been disguised in a theatrical way as the champion of reform while he's actually helping to build a protective tent for hierarchs

, by noting that the outcome of O'Malley's meeting with Pope Francis to relay to him the concerns of abuse survivors about Barros's appointment was the following: Vatican press spokesman Father Federico Lombardi then announced that a "precise and reliable legal text" will be assessed, detailing the duties and responsibilities of bishops and religious superiors vis-a-vis priests abusing minors— something that, as she notes, O'Malley had already discussed at a recent meeting of the pope's kitchen cabinet, the Council of Nine.
UNITED STATES
PopeCrimes& Vatican Evils.
Paris Arrow
Those who'll be going to watch the movie 'Spotlight' should also go and visit the "Little Rome" in Boston. 'Spotlight' is about the Boston Globe's initial investigation on priest pedophilia (and making Michael Keaton richer than what he already is). "Little Rome" in Boston is the testament written-in-stone of the once-upon-a-time seat of Catholic power of infamous Cardinal Bernard Law (a character in the movie) and where visiting Pope John Paul II slept — which is now owned by Boston College. As the New York Times reported, "The conversion of the cardinals' residence is the final step in the transformation of a leafy expanse on the western edge of Boston that was once so packed with Catholic institutions — a seminary, a college, the residence and the archdiocesan headquarters — that it was referred to as Little Rome." The "Little Rome" in Boston is a reminder that — the beginning is not what counts - but - the ending is what matters. "Little Rome" in Boston now joins the ranks of prime real estate of many Catholic churches, especially in New York, that are being shut down and sold for other (secular) uses — just as the New York Times aptly entitled its article, Seat of Boston's Catholic Power Gives Way to Other Pursuits
ARGENTINA
El Sol
[Condemn the Church to silence on a complaint of sexual abuse. The Supreme Court ordered the Archbishop to pay 30,000 pesos for not providing information to a young woman who accused a priest for having humiliated for 4 years.]
Tras varias idas, vueltas y reveses en la Justicia local, el Arzobispado de Mendoza deberá indemnizar a un joven que aseguró haber sido abusado sexualmente por un sacerdote. Si bien en el expediente civil que llegó hasta la Suprema Corte de Justicia no se pudo determinar si se cometieron las vejaciones, si se condenó a la institución religiosa por no investigar los hechos.
Iván Rubén González denunció que durante 1998 y 2001 fue abusado sexualmente en reiteradas ocasiones por el clérigo Jorge Luis Morello en una parroquia ubicada en San Martín. En marzo del último año, presentó un escrito al arzobispo para que inicie una investigación interna y se apliquen las normas "eclesiásticas y canónicas".
ARGENTINA
Tucuman Noticias
El Arzobispado de Mendoza deberá indemnizar a un joven quiso sumarse a la vida sacerdotal y que, en pleno cursado del seminario, fue abusado por un sacerdote en San Martín. Así lo definió la Suprema Corte de Justicia de Mendoza al convalidar en un fallo lo decidido el año pasado en la Cámara de Apelaciones, y rechazar un recurso de Casación presentado por la jerarquía católica.

Iván González fue abusado por el sacerdote Jorge Luis Morello en 2001 tras una convivencia formativa que se había iniciado en 1998. No quiso que interviniera la justicia penal. Por ello, sólo lo denunció ante las autoridades de la Iglesia. Pero en lugar de actuar en defensa de la víctima en forma inmediata, se esgrimió el Derecho canónico y se actuó en base a sus procedimientos.

González, "que al momento de ser abusado tenía 19 años y era, por lo tanto, menor de edad" (se consideraba menor de edad a quienes tenían menos de 21 años), fue acompañado por el abogado Carlos Lombardi quien reclamó la inconstitucionalidad del abordaje mediante los códigos internos de la Iglesia. Buscó ayuda en el Arzobispado y buscó interiorizarse del avance de las investigaciones, pero ésta fue mantenida en estricto secreto y no se le otorgó una respuesta, a pesar de haber sido la víctima de un sacerdote. La defensa de González reclamó informes a las autoridades religiosas y lo rechazó sin fundamentos. Fue cuando el abogado de la Iglesia, Luis Horacio Cuervo, presentó una carilla en la que negó que su defendido tenga responsabilidad en el hecho denunciado, negó la existencia de abuso sexual y el daño, y también que la justicia pueda inferir en los procedimientos internos de la Iglesia Católica.
DEUTSCHLAND
Zeit
[Many priests are dissatisfied with celibacy. Depressing result for the Catholic Church: An in-house study shows that many priests would not opt ​​again for a life without a partner.]
Deutsche Priester sind nach einer neuen Studie mit dem ihnen auferlegten Zölibat unzufrieden. Ein Drittel der Priester gab an, dass sich der Zölibat belastend auf ihren Dienst auswirkt. Ein Viertel würde sich, wäre ein Neustart möglich, nicht noch einmal für ein zölibatäres Leben entscheiden. Ein weiteres Viertel ist unentschlossen.
Dies ergab eine innerkirchliche Untersuchung der Wissenschaftler-Gruppe unter Leitung des Jesuiten Eckhard Frick. Die Studie basiert auf den Antworten von 8.600 Seelsorgern, 4.200 von ihnen arbeiteten als Priester. Als besonders belastend empfindet die Mehrheit der männlichen Geistlichen demnach den Verzicht auf Sexualität, Intimität und eigene Kinder.



UNITED STATES
PopeCrimes& Vatican Evils.

Paris Arrow




It usually takes a month and a half for the Vatican to accept an envoy's credentials but its prolonged silence usually means a rejection. French President François Hollande has appointed – last January – his chief of protocol and a senior diplomat Laurent Stefanini to the Holy See. But since Laurent Stefanini is openly gay, the media is now exposing Pope Francis' refusal to accept Stefanini because of his open homosexuality. At the same time, the Vatican is reeling with scandals in Italy because of infamous gay Italian priests and by the way, have idiots Catholics forgotten the Vatican Gay Lobby that caused the downfall resignation of Benedict XVI-RATzinger – and the Vatican's poster gay Cardinal O'Brien of Scotland?